MISSION
SILVER BELL
RAY
AMARILLO REFINERY
MISSION
OPERATIONS
The Mission Complex, an open-pit mine composed of the Mission, Eisenhower, Pima, Mineral Hill and South San Xavier properties and the nearby North San Xavier mine. The current pit, 2.5 miles long by 1.5 mile wide and 1,200 feet deep, is situated on 20,000 acres.
Benches are 40 feet high.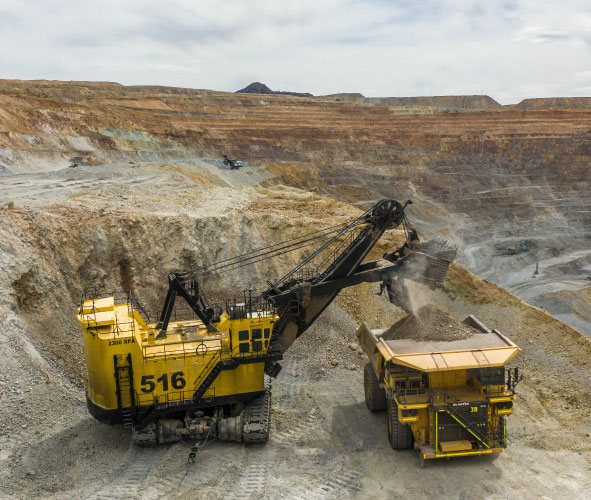 1961
Mill began operating at 15,000 tons per day.
1967
Two additional rod mills and one flotation
section added tobring capacity to 22,000
tons per day.
1976
Partnership formed with Anamax Mining
Company to mine the Eisenhower property
between Mission pit and South San Xavier Pit.
1979
Production commenced from Eisenhower.
1980
Flotation cells upgraded.
1985
Pima mine, contiguous to Mission, acquired.
1987
Refinements increased mill capacity to
28,000 tons per dayEisenhower acquired
by ASARCO from Anamax.
1991
Refurbishing and new construction
of (Pima Mill) Mission SouthMill.
1993
Expansion of Mission Mine completed
Flotation CellModification.
1995
Secondary crusher modifications and
DCS installed in MissionMill. Increases
capacity to 43,000 (Total 63,000 with
20,000 from South Mill).
1996
Underground mine expansion.
1997
Underground mine expansion;
Overland conveyor installed to
movenon-mineral rock.
1999
Mission Mill Secondary Crusher Upgraded.
2000
Mission Mill throughput reduced
to 41,000 tons per day.
2001
Mission Mill throughput reduced to
31,000 tons per day, SouthMill placed under
care and maintenance.
2002
Mission Mill throughput reduced to
24,000 tons per day.
2003
Mission Mill throughput reduced to
17,000 tons per day. Underground
mine closed.
2006
Restart of Molybdenum Circuit.
2009
Pumping system installed to utilize
CAP water.
2011
Reclamation of Tailings Dams 1-3 and
the Mission North Dump.
2011
Mine utilizes biosolids from Pima County
Green Valley Wastwater treatment plant.
2013
South Mill Expansion Completed.
SILVER BELL
OPERATIONS
The mine operates four open-pits (North Silver Bell, El Tiro, West Oxide and East Oxide). All copper in these pits will be extracted from the ore utilizing dump leaching.
The four open-pits and other plant facilities are situated on 19,000 acres. Mining affected areas of the facility: 3,900 acres.
Copper-bearing solutions from the dump leach and rubble areas are collected and pumped to the solvent extraction plant where the copper in solution is concentrated over 30 times before being pumped to the tank house. In the tank house, the copper is recovered from solution using the electrowinning process and plated on stainless steel starter sheets as high-purity cathodes.
Cathode copper produced in the solvent extraction / electrowinning (SX/EW) operation is sold to producers of copper rod, tubing and wire.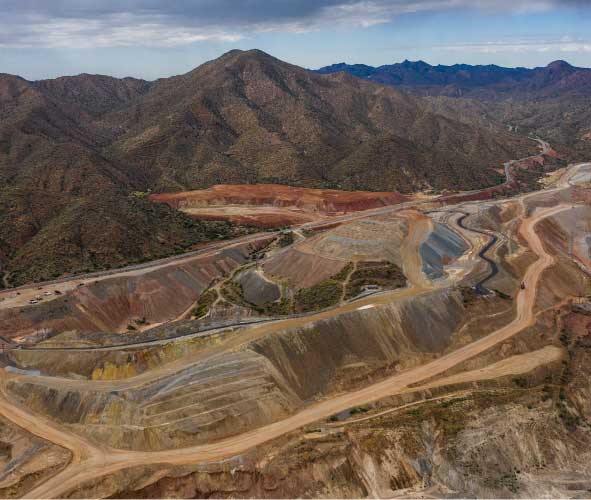 1850
Gold and silver exploration leads to
discovery of high-grade copper
mineralization suitable for direct shipment
to the east coast or England.
1880
Several prospects are developed as
commercial ventures and small smelters
are built.
1900
The consolidation of underground mines
begin.
A concentrator is built and concentrates are
shipped by railroad.
1910
Mining operations cease due to poor
economic conditions.
1915
ASARCO completes the purchase of
consolidated mining companies in the area.
1946
ASARCO geologists begin reevaluation of
the properties in the area.
1951
Stripping begins for open-pit mining of
El Tiro and Oxide pits.
1954
Milling operations begin for sulfide copper
and molybdenum.
1960
Dump leaching of copper oxides and
precipitation of copper begins at 10 tons
per day (TPD).
1965
An expansion of the precipitation plant
increases copper production to 15 TPD.
1967
Mill and secondary crusher expansion is
completed. Mill throughput is increased
to 10,500 TPD.
1978
A feasibility study is made to build a 15
TPD SX/EW facility that would replace the
precipitation plant.
1980
A study is made of a 20 TPD SX/EW
facility by adding on-stream leaching
of mill tailings and high grade in-pit
leaching.
1984
Evaluation of the North Silver Bell property
begins. Mine and mill operations suspended,
leach-precipitation operations continue.
1988
A drilling program started in North
Silver Bell to redefine the ore bod y.
1989
The BS&K property is purchased and a
30 TPD SX/EW facility is proposed.
1990
A rubble leaching evaluation is completed
and a 50 TPD SX/EW facility is approved
by the ASARCO Board of Directors.
Authorization to proceed is dependent
upon the receipt of applicable permits.
1992
The Bureau of Land Management land
trade is completed.
1994
Permits are approved and the
authorization to proceed with the SX/EW
project is granted.
1995
All construction contracts are awarded.
1996
Silver Bell Mining, L.L.C. partnership is
formed – 75% Asarco and 25% Mitsui.
Mining operations begin in North S ilver
Bell in April. Construction of the new
facilities begins in May.
1997
Dump leach and copper precipitation
operations are shutdown in April.
Construction of new facilities is
completed and cathode production
begins in July.
1998
The cathode production rate is increased
to 55 TPD.
2003
SX/EW plant improves efficiency and
production increases to 65 TPD.
2007
No. 2 dump project approved and
production forecast is increased to
67 TPD.
2014
AR Silver Bell purchases the 25% s take
in Silver Bell LLC from Mitsui & C o., Ltd.
RAY
OPERATIONS
The Ray Operations consists of an open pit mine with a concentrator and a solvent extraction-electrowinning operation, and associated maintenance, warehouse and administrative facilities. Cathode copper produced in the SX-EW operation is shipped to outside customers and to the Amarillo Copper Refinery.
Ray is located in Pinal County, just 18 miles to the west of the Hayden Operations. The Hayden Operations and General Administrative Offices are located 70 miles northeast of Tucson and 64 miles southeast of Phoenix (Pinal and Gila Counties).
A local railroad, Copper Basin Railway, transports ore to the Ray concentrator to the smelter, and sulfuric acid to the leaching facilities.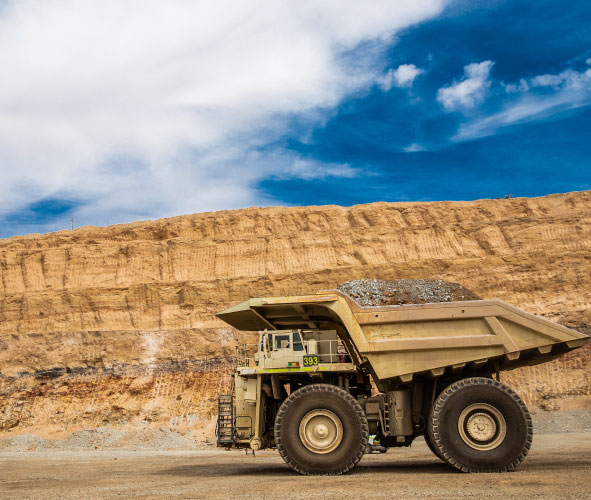 1880
Mineral Creek Mining C ompany.
1898
Globe Mines Exploration Co., Ltd.
1906
Gila & Ray Copper Companies.
1910
Ray Consolidated Copper Company.
1927
Nevada Consolidated Copper Company.
1933
Kennecott Copper Corporation, Ray Mines
Division.
1986
Ray Unit purchased from Kennecott.
1989
Hayden Concentrator modernization.
1992
Ray Concentrator commissioned;
expansion of Ray mine completed.
1996
Hayden Concentrator modernization.
1998
Ferric cure leaching commenced.
1999
Ray secondary crusher commissioned,
Tankhouse renovation completed.
2000
Ray and Hayden Operations formed.
AMARILLO REFINERY
OPERATIONS
The Amarillo facility produces 5/16" copper rod.  The Rod line maximum capacity is 264,000 short tons per year.  Molten copper is molded into a bar at a rate less than ½ a mile per hour and exits the mill close to 72 miles per hour.  The bar is rolled through 16 stands and is reduced from a 2.5" x 5" rectangle bar to a 5/16" rod (1/200th of its original size).  Coils weigh 7,500 pounds and contain 5 miles or 26,400 feet of rod.  Copper rod is used for magnet wire, automotive wire, telecom wire, and building wire.
The Amarillo Copper Refinery is located nine miles northeast of Amarillo, Texas on State Highway 136.  The plant sits on 3,054 acres of which the operating facility occupies approximately 250 acres.  The surrounding ASARCO owned land is leased for farming and grazing.
Amarillo Copper Refinery is ISO 9001:2015 certified.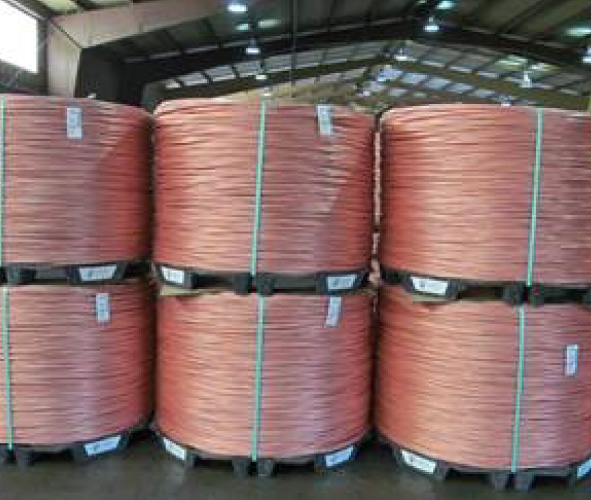 1922
Zinc plant construction began.
1974
Copper refinery constructed at a cost of
$210 million.
1975
First shipment of copper was made.
Zinc smelter closed.
1979
Patented Reatrol process (Reagent Control)
increased production efficiency, enabling plant
to eventually exceed design capacity.
1993
Electrolyte purification facility installed,
improving the quality of refined copper
production.
1994
Plant receives ISO-9002 certification for
copper cathode
1995
Plant receives ISO-9002 certification for
copper rod and cake; Stormwater recycling
and installation of Rod Zero stand.
1996
Plant receives ISO-9002 certification for
precious metals parting, Se/Te, nickel
sulfate and anode casting
1998
Plant receives ISO-9002 certification for
anode/blister sampling, precious metals
sampling and anode mold making.
2000
Increased Rod and Cake Facilities capacities.
2001
Electrolyte purification upgrade.
2003
Plant receives ISO 9000:2000 certification
for copper cathode, rod, cake, precious
metals parting, Se/Te, nickel sulfate and
anode casting.
2006
Enviroalloy™ production and Rod shaft
Furnace shell replacement.
2012
Precious Metal, Se/Te Production
Suspended.
Injection Well No. 2 Upgrade.
2015
Automated Starter-sheet stripping circuit
installed.
2019
The Amarillo facility started focusing in
producing 5/16" copper rod.