1800-1950
1899
ASARCO organized as American Smelting and Refining Company. Included in original consolidation were mines and mining claims in Colorado and Mexico. Major plants in consolidation included: Globe by-products plant (Denver, Colorado), East Helena lead smelter (Montana), El Paso lead plant (Texas).
1901
Merged with M. Guggenheim's Sons. Included in the merger were the Perth Amboy copper refinery (New Jersey) and smelters in Mexico (Chihuahua lead smelter, San Luis Potosi lead and copper smelter, Monterrey lead and copper smelter). Acquired five additional mines in Mexico.
1910
Purchased mining properties in Silver Bell district of Arizona. Copper smelters built in El Paso, Texas, and Hayden, Arizona.
1922
Amarillo, Texas, zinc plant constructed
1942
Corpus Christi, Texas, zinc plant constructed.
1954
Production commenced at Silver Bell, ASARCO's first open-pit copper mine.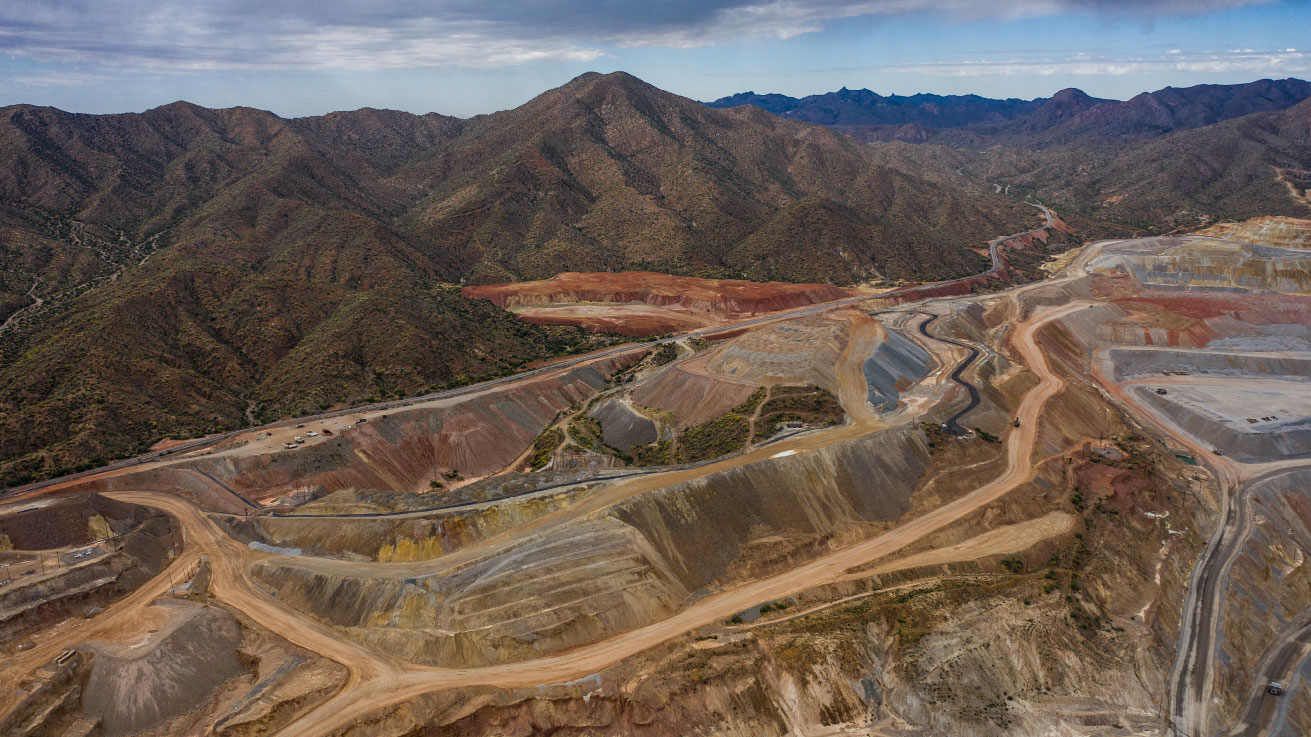 ASARCO was organized in 1899 as American Smelting And Refining Company.
Originally a consolidation of a number of lead-silver smelting companies, the Company has evolved over the years into an integrated producer of copper, and other metals.
The Company is a fully integrated miner, smelter and refiner of copper in the United States.
Significant copper mines include the Mission, Silver Bell and the Ray open-pit mines, all three in Arizona. ASARCO has solvent extraction/electrowinning product at our Ray and Silver Bell mines.
1960
1960
Southern Peru Copper Corporation opened the Toquepala mine and Ilo smelter.
1961
Mission copper mine in Arizona started up.
1967
Mexican mines and plants reorganized as ASARCO Mexicana, S.A., and 51% interest sold to Mexican investors.
1970
1971
Four Tennessee zinc mines purchased.
1973
San Xavier copper mine and leach plant in Arizona started production
1974
ASARCO Mexicana, S.A. reorganized as Industrial Minera Mexico, S.A. and 15% interest sold to Mexican investors reducing equity to 34%.
1975
Corporate name changed to ASARCO Incorporated. Amarillo zinc refinery closed. Amarillo copper refinery commenced production.
1976
Southern Peru Copper Corporation opened Cuajone copper mine.
1978
Industrial Minera Mexico, S.A. (IMM) reorganized. ASARCO owns 34% of Mexico Desarrollo Industrial Minero, S.A., a holding company formed to hold shares of IMM and shares of certain IMM operating subsidiaries.
1979
Modernization of El Paso Plant completed. Eisenhower Mining Company, a partnership of Anamax and ASARCO, began mining the Palo Verde copper deposit located between ASARCO's Mission and San Xavier copper mines
1980
1983
Hayden copper smelter modernization
completed.
1985
Corpus Christi zinc smelter and refinery operations suspended indefinitely. Pima copper mine in Arizona acquired.
1986
Ray copper mine and smelter purchased.
1987
Anamax interest in Eisenhower mineral reserves acquired.
1988
Encycle, Inc. started up waste treatment facility at Corpus Christi.
1989
IMASA Group acquired. 49.9% interest acquired in copper mining business of Montana Resources, Inc. ASARCO announces decision to end involvement
in coal mining. ASARCO announces board approval to expand copper facilities at Mission and Ray mines and El Paso smelter.
1990
1991
Expansion of Mission mine completed.
1992
Expansion of Ray mine completed. ASARCO becomes a fully integrated copper producer
1993
Modernization of El Paso smelter completed
1994
Acquisition by Southern Peru Copper Corporation of Ilo Refinery. Underground operation at Mission mine announced. ASARCO and Coeur d'Alene Corp. form Silver Valley Resources, Inc
1995
ASARCO purchases an additional 10.7% interest in SPCC, increasing holdings to 63%; consolidates results. SPCC starts SX/EW facility at Toquepala. New sulfuric acid plant started at SPCCs Ilo smelter
1996
ASARCO announces construction of a new mining and SX/EW facility at Silver Bell mine.
1997
Silver Bell solvent extraction/electrowinning facility started. ASARCO sells shares in Grupo Mexico, S.A. de C.V. for $323 million. Expansion program started at SPCC's Cuajone mine; to increase mine's production 50%.
1999
ASARCO celebrates a century of operations as American Smelting & Refining Company. ASARCO suspends operations at El Paso, Texas copper smelter. ASARCO closes its Black Cloud Mine in Colorado
2000
2000
Grupo Mexico Sells American Limestone Company to CSR America for $211M. Grupo Mexico Forms Americas Mining Corporation (AMC) to include ASARCO, SPCC and Minero Mexico, to be headquartered in Phoenix, Arizona.
2001
ASARCO suspends operations at East Helena, an original M. Guggenheim facility. ASARCO suspends operations at the Tennessee Mines Division. ASARCO reduces mine production at Mission by 61 percent.
2002
ASARCO reduces mine production at Mission to 15% of total capacity.
2003
ASARCO sells its interest in SPCC to AMC
2005
ASARCO files Chapter 11 Proceedings for five non-operating, dormant subsidiaries. ASARCO files Chapter 11 Proceedings on August 10th..
2006
ASARCO closes the Globe (Denver) High-Purity Metals plant; the last of the original M. Guggenheim facilities.
2008
Sterlite Industries Agrees to Purchase ASARCO for $2.6 Billion; later withdraws bid
2009
ASARCO Emerges from Bankruptcy and Re-integrates into Grupo Mexico