ABOUT US
ROUTE MAP
FLEET
CONTACT US
CAREERS
PHOTO GALLERY / VIDEOS
ABOUT US
Copper Basin Railway "CBRY" is an Arizona short-line railroad that operates from a connection with the Union Pacific Railroad (UP) at Magma to Winkelman, in 54 miles (87 km) of length. The railroad also has a 7-mile (11 km) branch line that runs from Ray Junction to Ray, Arizona.
There is an interchange point with the San Manuel Arizona Railroad (SMARRCO) at Hayden. In summer 2006, ASARCO Copper Corporation purchased the entire railroad.
Products CBRY has hauled through the years.
Copper concentrates
Mineral ore
Finished and unfinished copper
Sulfuric acid
Lumber
Military equipment
Gypsum
History
Magma–Winkelman line
The Magma–Winkelman line was constructed by the Atchison, Topeka and Santa Fe Railway (ATSF) subsidiary Phoenix and Eastern Railroad between 1902–1904.
The Phoenix and Eastern Railroad built the railroad from Phoenix –Winkelman via Florence. It originally proposed to build to a connection with the Southern Pacific Railroad (SP) at Benson but the line was never built past Winkelman.
The railroad was leased to Santa Fe upon completion of construction on December 10, 1904, and was operated by ATSF subsidiary Santa Fe, Prescott and Phoenix Railway. On March 13, 1907, the Phoenix & Eastern became an operating subsidiary of SP. On March 10, 1910, the Phoenix & Eastern was leased and became a non-operating subsidiary of SP and operated by the Arizona Eastern Railroad.
The railroad was sold to the Arizona Eastern Railroad on October 31, 1945. The Arizona Eastern Railroad was merged into SP on September 30, 1955.
The track at Winkelman was extended 6.35 miles (10.22 km) to Christmas, Arizona, in 1911 by the Arizona Eastern Railway. That section of track was abandoned by the SP in 1961.
June 1, 1986, the line was sold by Southern Pacific Railroad and the CBRY became a Common Carrier for the Southern Pacific Railroad. The CBRY was owned by Rail Management Corporation from 1986–2006. September 27, 2006, ASARCO purchased the entire railroad. ASARCO also owns the Ray Mine and Hayden Smelter, CBRY's primary customers.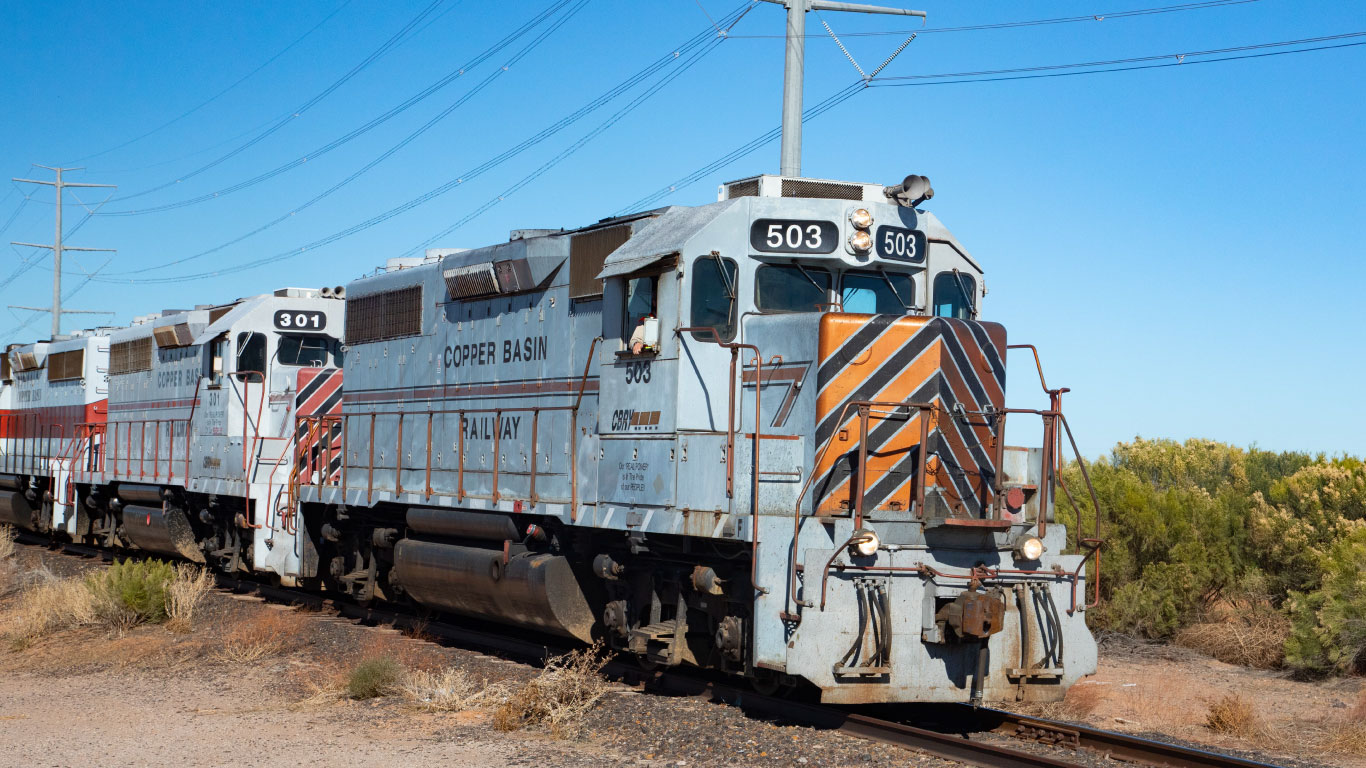 ROUTE MAP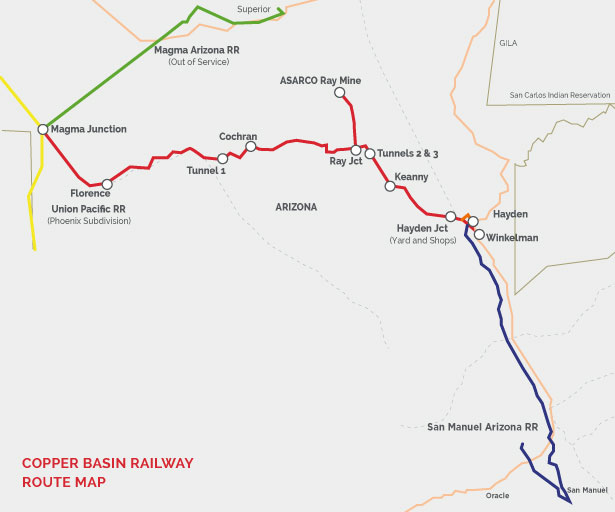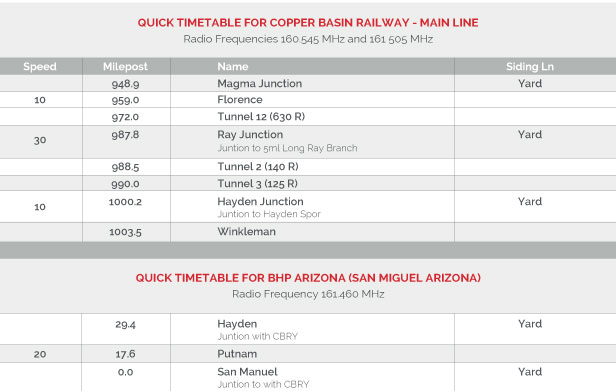 The route primarily follows:
Gila River, Magma (Webster) – UP/MAA, Florence Junction, Florence, Stanco, Barr, Munn (Alta), Price,Tunnel 1 (over 630 feet or 190 meters in length, second in Arizona only to the 680 feet or 210 meters tunnel on the Arizona Central Railroad).
Cochran, North across the Gila River can be seen the Coke Ovens, several «beehive» kilns. Made from rock, they were originally built to make coke out of local timber and copper/silver ore.
Butte, Zellweger, Wooley, Ray Junction, Tunnel 2, Riverside, Erman, Tunnel 3, Kearny, Branaman, Burns
Hayden Junction. Location of the operational center for the SP until the system was rebuilt to have ore trains go directly from Ray to Hayden for unloading onto a new conveyor system.
Hayden (office), Spur to ASARCO Mill and Smelter, Ore Unload, San Manuel Arizona Railroad Junction (to San Manuel and Mammoth Mine) and Winkelman.
FLEET
Copper Basin Railway currently has 16 locomotives in their fleet.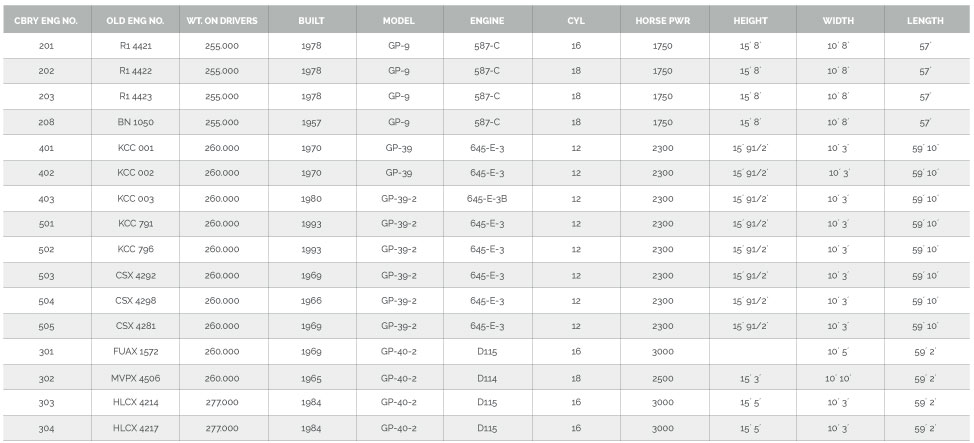 CONTACT US
If you have any questions or clarifications, please
contact us at the following telephone numbers:
Rikki L. Galka
Copper Basin Railway, Inc
Manager Operations
520.356.7730 Ext. 79209
602.448.4652 C
520.356.6280 Secure Fax
rgalka@asarco.com
Casandra Wade
Planner
520-356-7730 ext. 79211
928-200-8077 cell
cwade@asarco.com
CAREERS
At CBRY we know that results can only be achieved through human capital, which is why we always seek to attract, develop and retain the best talent.
Thank you for your interest on becoming part of CBRY.
CBRY offers an excellent low cost benefits package for medical/prescription/dental/vision, disability coverage, life insurance and other optional coverage and 401(k) plan with company match.
Apply to our career opportunities available in management, administration and operations at our Arizona and Texas mines.